On this page we offer mainly demonstration goods. From time to time also show lasers, which we offer on behalf of customers, because they have purchased new lasers from us.
Be reminded that foreign clients are able to buy without German VAT ( minus 19% ), if you provide a valid VAT number.


Demonstration goods are always offered with at least 1 year warranty. For goods that are still very young, the full warranty is guaranteed. Individual information is given with each product. The goods listed here can only be requested by phone or by mail. The availability changes constantly.
The laptops offered are usually employee laptops that have since been given new ones. More on that at the bottom.
We are sorry, but this page is changing so fast, that we do not translate the page to English. Let us know if you need a translation.
---
3m x 2m Outdoorgaze wei├č, konfektioniert mit "Taschen oben / unten - Seiten ges├Ąumt"
Ware wurde einmal f├╝r neue Produktfotos eingesetzt und ist quasi neuwertig.
Es handelt sich um ein transparentes, sehr gut reflektierendes Lasergewebe.
Besonders gut geeignet f├╝r Auf- und R├╝ckprojektionen mit Lasern oder Beamern im Au├čen Einsatz.

Weitere Infos zu diesem Stoff unter https://www.lasergaze.de

Preis: EUR 85,- ( inkl. 19% MwSt. , zzgl. Versandkosten ) statt EUR 128,- // ab sofort 1x verf├╝gbar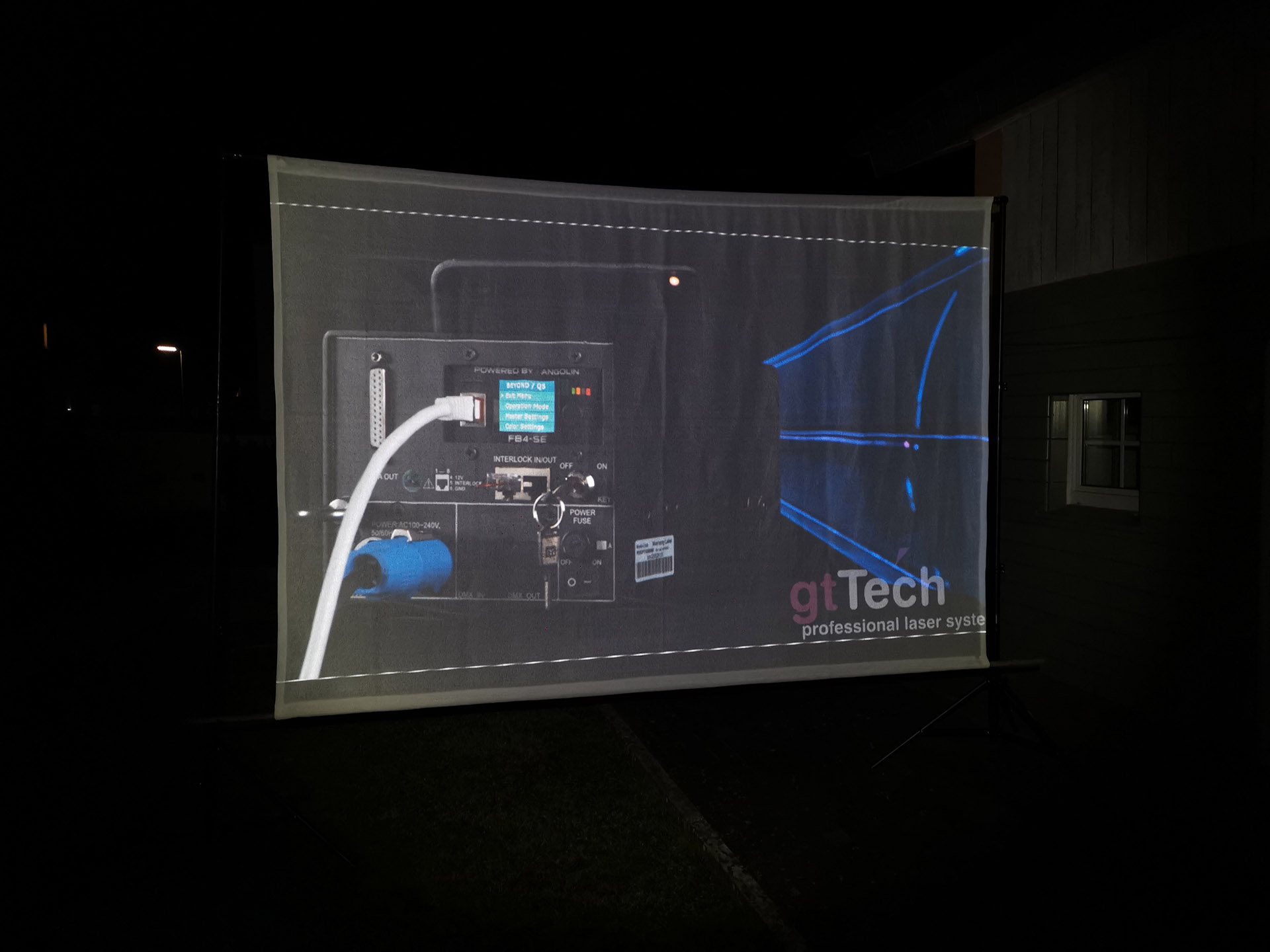 ---
Lenovo Thinkpad T460S, I5, 256GB NVME M2. SSD, 12GB RAM, 14" IPS Full HD Display, W10 64bit
Pangolin Software inkl. sehr vielen Extras installiert und konfiguriert, Einschalten uns los.
u.a. Pangolin QuickShow 5.0, Pangolin Beyond 5.0, Traktor DJ 3.0 Pro, Virtual DJ mit Beat Sync installiert.
Automatische ├ťbergabe der BPM an QuickShow und Beyond (nat├╝rlich abschaltbar)
Resolume Arena 7 ( Multimedia Beamer Software ) und Depence2 ( Laser und Licht Visualisierung ) installiert.
Sehr viele Lasershows, Animationen und Lasercues, sowie zus├Ątzliche Arbeitsoberfl├Ąchen - bleiben installiert!
Komplettes System inkl. Treiber, Bios und Firmware kann "mit einem Klick - automatisch" upgedatet werden!
Hochwertiges 14 Zoll IPS LED Display, deutsche Tastatur, Multimonitorausgabe, neuwertiger Zustand, 12 Monate Garantie
Dieses Laptop ist f├╝r die Arbeit mit bis zu 3 Interfaces ausgelegt bzw. getestet worden..

Preis: EUR 599,- ( inkl. 19% MwSt. , zzgl. Versandkosten ) // ab 23.09.2021 1x verf├╝gbar


---
Im Kundenauftrag zu verkaufen:
RGB ILDA Showlaser Projektor HQ-1800
Ausgangsleistung gemessen!:

Rotes Modul: 410mW
Gr├╝nes Modul: 512mW
Blaues Modul: 580mW

Scanner: 30kpps bei 8 Grad

Sehr guter Zustand, wenig gebraucht, bestens f├╝r Beamshows geeignet. Inklusive Flightcase. Abbildung bis auf Logo "identisch".

Preis: VB EUR 499,-
---
Lenovo Thinkpad P51, I7, 256GB M.2 NVME SSD, 32GB RAM, 15,6" IPS Full HD Touch Display, W10 64bit
Pangolin Software inkl. sehr vielen Extras installiert und konfiguriert, Einschalten uns los.
u.a. Pangolin QuickShow 5.0, Pangolin Beyond 5.0, Traktor DJ 3.0 Pro, Virtual DJ mit Beat Sync installiert.
Automatische ├ťbergabe der BPM an QuickShow und Beyond (nat├╝rlich abschaltbar)
Resolume Arena 7 ( Multimedia Beamer Software ) und Depence 2 ( Laser und Licht Visualisierung ) installiert.
Sehr viele professionelle Laserhows, Animationen und Lasercues, sowie zus├Ątzliche Arbeitsoberfl├Ąchen - bleiben installiert!
Komplettes System inkl. Treiber, Bios und Firmware kann "mit einem Klick - automatisch" upgedatet werden!


15,6 Zoll IPS Full HD Touchscreen Display mit 4GB VRAM NVIDIA Grafik

, gute Multimonitorausgabe wegen 2. Grafikkarte
LED Tastaturbeleuchtung, neuwertiger Zustand, extrem schnell und zuverl├Ąssig - auch im Netzwerk! 12 Monate Garantie
Dieses Laptop wurde f├╝r die Arbeit mit bis zu 10 Interfaces ausgelegt und getestet.

Preis: EUR 1.785,- ( inkl. 19% MwSt. , versandkostenfrei ) // ab 01.10.2021 verf├╝gbar //

Neupreis: EUR 2.722,-





---
Further demonstration goods:
(just click)